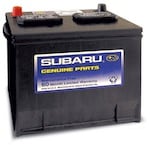 We Provide Genuine Subaru Parts and Accessories to Drivers throughout Cape Cod, MA

Here at Atlantic Subaru, we've made it our mission to ensure that your car maintains its initial quality over the course of thousands of miles. We achieve that goal by providing factory-authorized Subaru Parts and Accessories to drivers throughout Hyannis, Barnstable, Plymouth, New Bedford, and Bourne, MA.
At our Auto Parts Center on Cape Cod,  we're stocked with a vast inventory of Genuine Subaru Parts and Accessories that have been designed specifically for your Subaru vehicle. Don't settle for cheap after-market parts when our factory-backed parts and accessories offer a guarantee of quality and extended warranty coverage. We know that there's just no substitute for the real thing!
Our team of Subaru parts specialists will also make it easy for you to find to find the exact part or accessory that you've been searching for. That's just another way that we guarantee the complete satisfaction of each customer that sets foot in our showroom!
Of course, you'll also enjoy the opportunity to customize your ride with Genuine Subaru Accessories. We offer a wide range of Subaru accessories including cargo racks, luggage and bike carriers, stereo players, all-weather floor mats, splash guards and much more. Subaru Accessories allow you to personalize your car for your daily driving needs!
Now, you'll certainly to want to browse our current Parts and Accessories Specials to save money on many of our most popular products!
Get started right away by filling out the simple form below or visiting our conveniently located dealership in Bourne, MA on Cape Cod near Southeaster Mass, Martha's Vineyard and Nantucket. Feel free to contact us with any questions or concerns!
Stick With Genuine Subaru Parts, Upgrades and Kits in Bourne, MA
Any Subaru you're enjoying around Barnstable and Plymouth, MA is built to last. But even the finest-made vehicles need regular service, maintenance and upkeep, and in some cases, important mechanical parts need to be replaced. When it's time for that level of repair and service, check out what we have to offer at the parts center at our Bourne, MA Subaru dealership. From replacing your crucial mechanical parts to remain safe on the roads of Hyannis, Falmouth and Truro, to specialized Subaru kits and upgrades, we handle it all. See how you can easily order parts online, or simply visit us at Atlantic Subaru today to get started.
Replace Batteries, Filters and More in Bourne, MA
For typical replacement like air and cabin filters and your car's battery, we make it easy to swap out old, run-down components and match your Subaru with the right fit for whatever it needs. Ensuring your specific model and edition has the proper battery, filters and fluids is just a part of your car's routine maintenance as you enjoy a Subaru Forester, Outback or WRX around Plymouth and Mashpee and beyond. Keeping these parts fresh and updated will help other systems and parts work in their best conditions as well.
Upgrade Your Subaru With Accessories, Kits and More
As well-equipped as any Subaru is that you're driving around the Cape Cod area, there's always more you can add to the mix. Perhaps there's a specialized kit for a sporty WRX you want to add on after owning your athletic performer for years, improving its dynamics and overall look. New Wilderness Editions of the Forester and Outback feature all kinds of outdoorsy gear, but instead of upgrading to a whole-new ride, see what kinds of special all-terrain tires, heavy duty roof racks and more you can add to your current Subaru SUV. Whatever you're thinking about, we're bound to have the proper upgrades in stock, or we can help you easily order the parts and accessories you want through Subaru.
Find Easy Online Ordering and Helpful Parts Specials on Cape Cod
Along with a full stock of Genuine Subaru Parts, we make sure that it's easier than ever to order exactly what you need. Check out the easy form to order online, matching up the specific parts you need with your exact model, model year and edition. As always, our parts experts will be on hand here in Bourne to answer any questions you have. Along with the easy way you can order Genuine Subaru Parts, you'll find some excellent specials to help you save. Check out all our current parts specials and coupons to see if you can save on an upgrade with accessories, or if these discounts will save you more than our currently offered service specials when something crucial is being replaced by our experts at Atlantic Subaru.
See why choosing the parts center at Atlantic Subaru is the way to go by contacting us or visiting today.