Atlantic Subaru Offers a Head to Head Comparison of the Subaru Outback and Jeep Grand Cherokee for Cape Cod, Falmouth and Hyannis Drivers
When it comes to handling off-road adventures, Subaru and Jeep are two brands that aren't afraid to handle the challenge. For Bourne drivers, we know its important to find the model that best can handle those situations and we're happy to help with the process. The Subaru Outback has long been a favorite of drivers for its standard all-wheel drive and available equipment that make outdoor fun easy to achieve. Even when compared to the Jeep Grand Cherokee, you'll discover plenty of ways that the Subaru Outback shows itself to be the best available SUV for the job.
See how these two top of the line models compare!
Subaru Outback vs Jeep Grand Cherokee
The Subaru lineup offers two engine options to the four engines available in the Jeep Grand Cherokee. The base engine on the Outback is a 2.5-liter that delivers 182 horsepower and 176 pound-feet of torque while the Grand Cherokee comes with a 3.6-liter V6 that outputs 295 horsepower and 260 pound-feet of torque.
While the Jeep model does offer more power, it will require you to make more stops at the gas pump. The Subaru Outback is far more efficient on the highway (33 to 26 mpg) and in the city (25 to 19 mpg). This is even more impressive when you consider that the Subaru Outback achieves these results as an all-wheel drive model while the Jeep Grand Cherokee falls even further behind.
Even though the Jeep lineup is touted as an off-road machine, that doesn't mean it comes standard with four-wheel drive. You need to upgrade to a more expensive model to gain access to that which isn't the case with the Subaru Outback, which comes standard with all-wheel drive.
If you want to provide a comfortable ride around Plymouth for you and your passengers, choose the Subaru Outback. It offers more passenger space than the Jeep even though both can seat five.
The Jeep Grand Cherokee might seem like the larger cargo option but the Subaru Outback offers a maximum of 75.7 cubic feet of storage while the Jeep only offers 68.3 cubic feet.
Both models come standard with a seven-inch touchscreen displays but drivers in Barnstable who upgrade with the Subaru Outback get access to an 11.6-inch screen- the Jeep Grand Cherokee only offers an 8.4-inch as their largest size.
Want to keep your family safe around New Bedford? The Subaru Outback offers features like advanced adaptive cruise control with lane centering, pre-collision braking, lane departure and lane keep assist as standard equipment while the Jeep Cherokee requires upgrades to more expensive models to unlock the same features.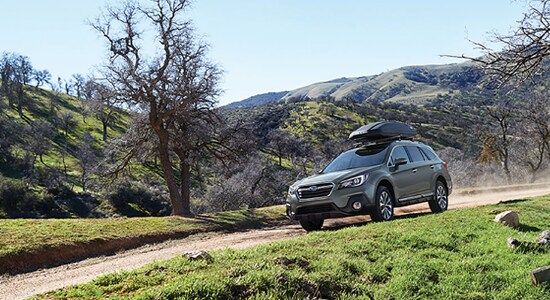 Make an Inquiry